Drug Discovery Research
Drug Discovery Research
• We have identified a number of molecules that could be applicable for development of molecular-targeted anti-cancer therapies. The type of anti-cancer drug for such molecules was defined by their characteristics, such as subcellular localization, mode of function, and immunogenicity. Based on results obtained from research, we are actively engaged in the development of new anti-cancer drugs in collaboration with third parties.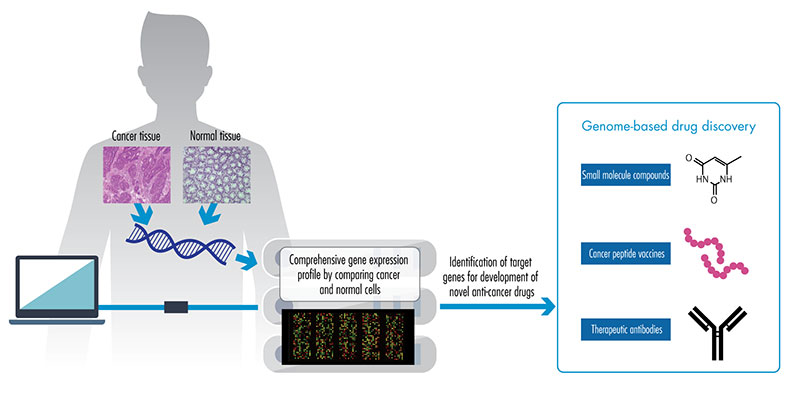 Small Molecules
Among proteins that express specifically in cancer cells, some have important functions for the growth of cancer cells. Some small molecular inhibitors that target kinases have already been launched. We have been identifying novel cancer-specific target molecules and developing small molecules against them.
Antibodies (for treatment)
We selected cancer-specific cell-membrane proteins and secreted proteins for development of antibody drugs. Several antibody drugs for cancer have already been launched and developed by many pharmaceutical companies. Antibodies with high ADCC activity or CDC activity and next generation antibodies labelling radioactive materials and toxins have been actively researched and developed worldwide.
Cancer peptide vaccine
Among cancer-specific molecules, some proteins can induce specific immune response in patients. It is possible to develop a cancer peptide vaccine when specific part (peptide) which induces immune response of protein can be identified. We have identified genes that are expressed only in cancer and testis (cancer-testis antigens) and that are essential for the growth of cancer cells (oncoantigens). These genes are believed to be suitable for cancer immunotherapy, and OncoTherapy has been working hard on the research and development of cancer peptide vaccines targeting these antigens.