Pipeline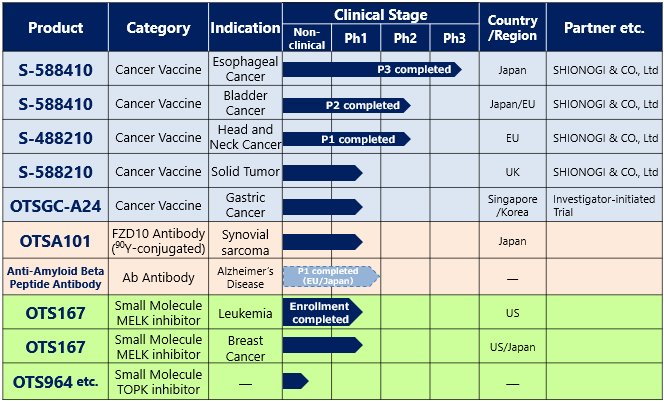 Drug Development
With regard to our drug development, we have been increasing our activities and have been working closely with our alliance companies as described below:
[Small-Molecule Drugs]
OTS167 is a small molecular compound that targets the maternal embryonic leucine zipper kinase (MELK). MELK plays important roles in the maintenance of cancer stem cells as well as cancer progression. Phase I clinical studies of OTS167 for breast cancer patients in the United States and Japan. In this study, safety and a recommended dose for oral administration of OTS167 will be assessed as primary objectives in patients with breast cancer including Triple Negative Breast Cancer (TNBC), and the preliminary clinical efficacy will be evaluated for TNBC as secondary objective. A Phase I/II clinical study of OTS167 for leukemia patients including Acute Myeloid Leukemia (AML) enrollment was completed and the safety and the recommended dose of OTS167 intravenous administration in patients with AML were confirmed. Also, the clinical study of OTS167 in healthy adults was conducted in Australia to evaluate bioavailability of OTS167 single oral dose, and the favorable results were obtained from this study. The molecular target of OTS167 is a protein kinase, MELK, which is highly expressing in cancer stem cells and involved in its formation and maintenance. OTS167 is a molecule targeted drug with novel mechanism of action (first-in class), which inhibits MELK and show the strong inhibition of cancer cell proliferation. Experiments using xenograft mice models have demonstrated that OTS167 has potent antitumor activities against lung, prostate, breast and pancreatic cancers. In addition, development candidate compounds have been identified for another new cancer-specific drug target (TOPK), which plays important roles in cell division. Animal studies gave remarkable results. We are conducting formulation studies and non-clinical tests.
[Cancer Peptide Vaccines]
For cancer peptide vaccines, we have initiated strategic dialogs with partner pharmaceutical companies. In addition, we have strengthened the cooperative support for clinical development by these partners since the inception of the new management setup. S-588410 is cancer peptide vaccine licensed out from OncoTherapy to Shionogi & Co., Ltd. (hereafter "Shionogi"), and Shionogi conducted a Phase III study of S-588410 for esophageal cancer and completed the study. In relapse free survival (RFS) set as a primary endpoint, no significant prolongation of RFS was found in the S-588410 group as compared with the placebo group. In exploratory subgroup analyses by tumor locations, S-588410 significantly improved the overall survival (OS) in a certain subgroup. Also, improved RFS and OS were observed in the subgroup with higher grade of pathological lymph node metastasis. As for the induction of cytotoxic T lymphocyte (CTL) set as one of the secondary endpoints, high induction rate was observed in S-588410 group. The main adverse reaction was a skin reaction at the injection site, but no cases of serious skin reaction were observed. Further analyses of the study results will be followed to adjust the overall development strategy, and OncoTherapy and Shionogi will continue the discussion about the development plan of cancer peptide vaccines. It should be noted that Shionogi & Co., Ltd. has also completed Phase II clinical trial with S-588410 for bladder cancer in Japan and Europe. And the company has been also conducting Phase I/II trial of S-488210 for head and neck cancer in Europe, as well as Phase I clinical study of S-588210 for solid tumor patients in UK. Also, Phase Ⅰ clinical trial of combination of OTSGC-A24 and Immune Checkpoint Inhibitor for stomach cancer is ongoing at NUH(SGP) and Yonsei University Health System, Severance Hospital(KOR) as investigator initiated clinical trial.
[Antibody Drugs]
For the therapeutic antibody OTSA101, Phase Ⅰ clinical study is ongoing in Japanese patients with refractory, relapsed and/or advanced synovial sarcoma. In this study, the safety and pharmacokinetic profiles of radioisotope-conjugated OTSA101 will be evaluated in synovial sarcoma patients. In addition, Immunus Pharma, Inc., our consolidated subsidiary company, is promoting out-licensing activities for anti-amyloid β peptide antibodies with the aim of providing therapeutic agents for Alzheimer's disease.
*The information included reflects the status as of September 30th, 2023.